Cole & Mason Kew 2-In-1 Precision+ Electronic Salt & Pepper Mill Set 21cm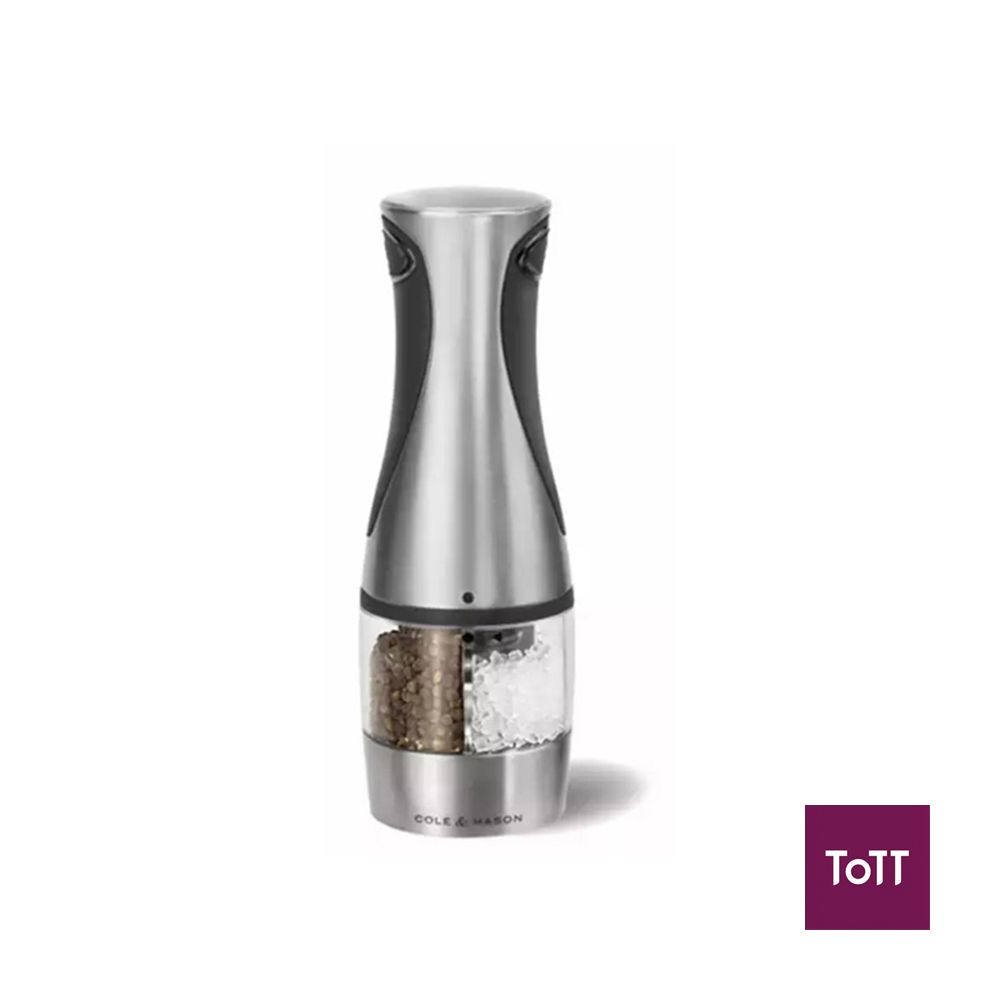 This 2-in-1 mill is compact and stylish – without compromising on performance.Featuring a duo diamond-sharp ceramic mechanism for an accurate and even grind with every turn. Fill the mill with both your favourite coarse sea or rock salt and whole peppercorns by locating the padlock symbols on the chrome top, twisting anti-clockwise and lifting off. Remove the semi-transparent lid covering each compartment and fill to the top. To insert batteries the mill should be opened in the same way. 6 x AAA batteries (not included) are required. Alkaline batteries are recommended for the best performance.When ready to start using, it is easy to operate by simply and holding pressing the applicable buttons on either side. Keep the button pressed until you've reached your desired amount of seasoning and then just press and hold down the other button. Each button is located in a soft-touch panel making it easy to hold and operate single-handedly, great for grinding over a pan whilst still stirring. The grind size can be adjusted from fine to coarse using the knobs situated at the base of the mill. Each knob can be adjusted separately. For a finer grind, tighten the knob. This is great for soups and sauces. A coarser grind is great for steaks, simply loosen the knob until you reach your desired setting. If your mill becomes difficult to grind, particularly on a fine setting, trying clearing the mechanism. Turn the mill upside down, loosen the knob to the coarsest setting and twist the top. This will free any large peppercorns or salt crystals that may have become lodged. Retighten the knob to the desired setting. It is advised to not put salt in your pepper mill as this will corrode the carbon steel mechanism.
Established in 1919, Cole & Mason's world-renowned salt and pepper mills remain wholly designed in England. With mill designs from traditional to modern, these innovative mills not only enhance your home and food with function and optimum flavor, but bring great style as well. Every kitchen and home deserves a mill that delivers the ultimate in seasoning time and time again.