Cole & Mason Richmond Precision+ Electronic Salt & Pepper Mill Set 21.5cm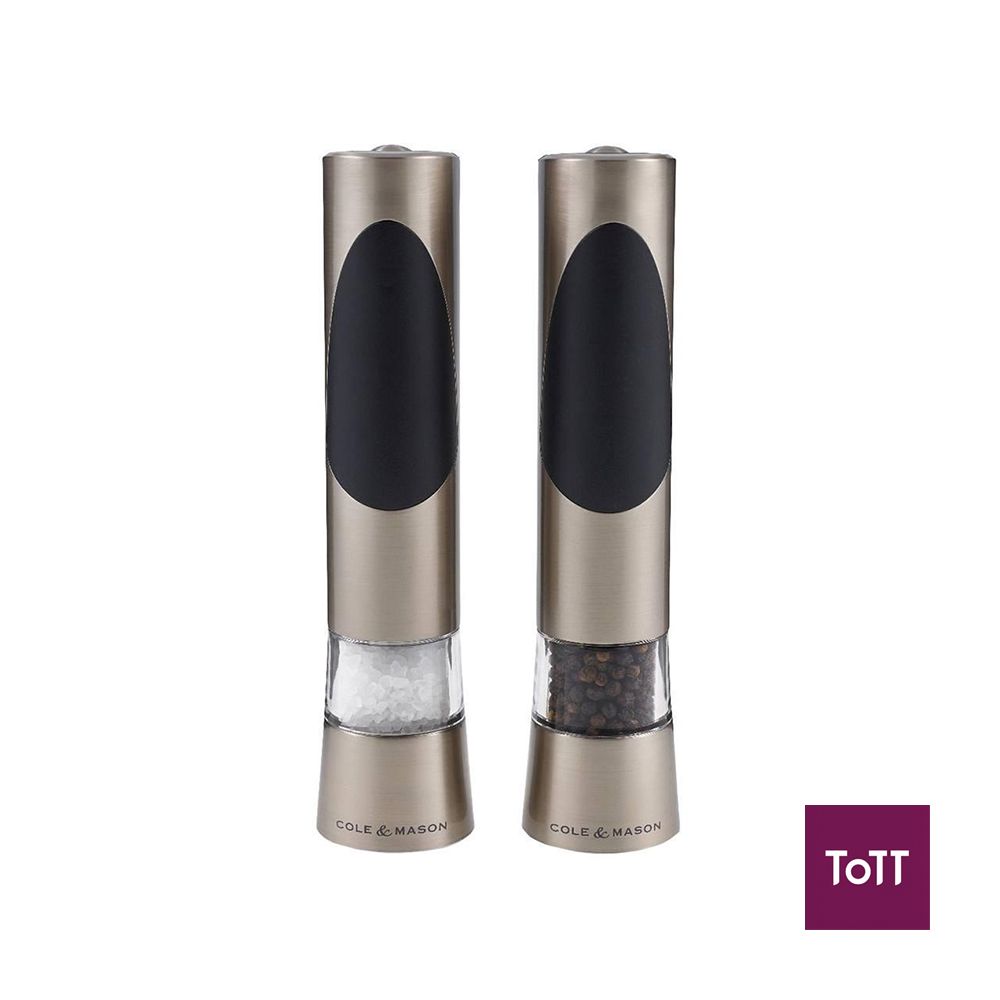 The Cole & Mason Richmond Electronic mill set offer a sleek and contemporary way of seasoning your food for the ease and convenience of not needing to manually grind. Stylishly engineered from contemporary brushed chrome with a black finish, they make a stylish addition to any kitchen or table whilst still being an essential everyday kitchen tool.To start grinding simply press and hold the button on the top and release once you've finished seasoning.The Precision mechanism is made from hardened carbon steel that strips instead of crushing peppercorns allowing them to release their natural oils which gives you more flavour with every turn. As part of the Cole & Mason Gourmet Precision range they provide you with the confidence to enhance the flavour of any meal through seasoning as a professional would.Adjust the grind from a fine to a coarse setting to suit your dish using the knob situated at the base of the mill. To fill the mills, simply twist the acrylic middle and brushed chrome top so the padlock symbol aligns with the unlock symbol. Remove the top, fill with your choice of whole peppercorns and coarse salt then replace the top ensuring you align the padlock symbols. Each mill requires 6 x AAA batteries (not included). Alkaline batteries are recommended rather than zinc due to the amount of force required to grind the salt and pepper. Wipe with a damp cloth and use a clean cloth to dry. We recommend you do not use any cleaning products as this can affect the finish of the product or immerse in water, or place in a dishwasher. If your mill becomes difficult to grind, particularly on a fine setting, trying clearing the mechanism. Turn the mill upside down, loosen the knob to the coarsest setting and twist the top. This will free any large peppercorns or salt crystals that may have become lodged. Re-tighten the knob to the desired setting.
Established in 1919, Cole & Mason's world-renowned salt and pepper mills remain wholly designed in England. With mill designs from traditional to modern, these innovative mills not only enhance your home and food with function and optimum flavor, but bring great style as well. Every kitchen and home deserves a mill that delivers the ultimate in seasoning time and time again.