Nordic Ware Aluminium 3-in-1 Divided Sauté Pan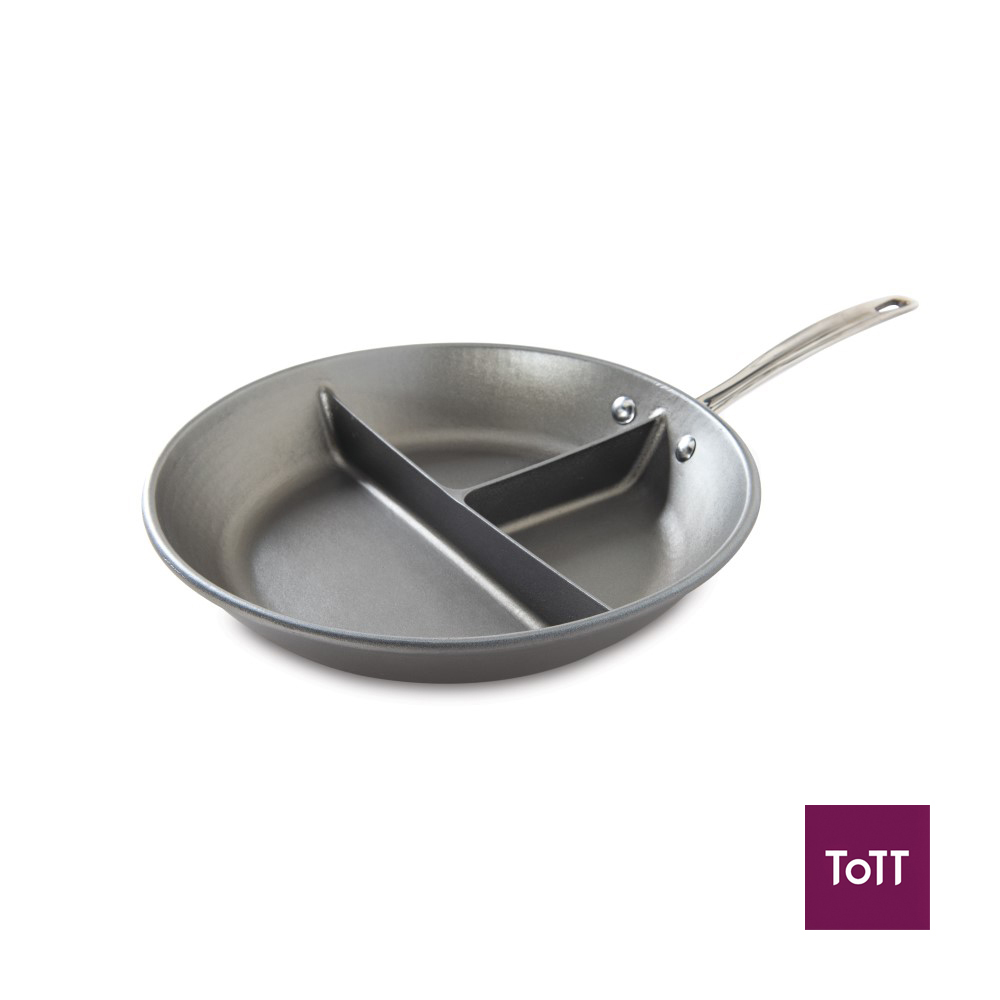 Designed for versatility and efficiency, you can saute' up to three separate foods at once in this innovative, space-saving 12″" pan. Now one piece of cookware takes the place of three, making it ideal for small kitchens, small households, camping, boating and more. Ideal for reheating leftovers or cooking three very different things in one multipurpose pan. For instance, the dividers make it possible to heat a main dish and two sides simultaneously. Use it to separate sizzling toppings for fajitas too. Safe for use on gas, ceramic and electric stoves, it's also oven safe to 400°F. Though people at all stages of life enjoy owning this pan, it's filling a special niche for young cooks who appreciate the space-saving, time-saving, money saving concept of owning one excellent pan instead of three. Crafted of even heating, durable, rustproof cast aluminum in the USA, with a beautifully balanced riveted stainless steel handle. Includes PFOA free premium nonstick for easy food release and cleaning.
Use And Care: 1. Before initial use and after subsequent uses, hand wash with warm, soapy water. 2. Dishwasher use is not recommended, as it may shorten the life of the nonstick coating and dull the exterior of your pan. 3. Use moderate heat to obtain the most effective heating properties. Excessive heat can be damaging to the pan and stovetop. 4. Never allow cookware to boil dry or leave an empty pan on a hot burner unattended. These will both cause damage to the pan's cooking properties. 5. Do not soak pan in water for extended periods, or use pan as a food storage device for extended time periods, as damage to the coating may occur. 6. Metal utensils, scouring pads and abrasive cleaners should not be used on nonstick surfaces. 7. Always use adequate ventilation when cooking. 8. While not necessary, cooking with butter or oil will improve performance and taste of food. 9. Handle will become hot with extended cooking.
Nordic Ware is a leading manufacturer of high quality and innovative kitchenware products. By designing products of superior value, producing them in the United States whenever possible, and marketing them worldwide, we enrich people's lives by adding utility, convenience and enjoyment to the preparation of food.