Nordic Ware Cast Grill N Sear Oven Pan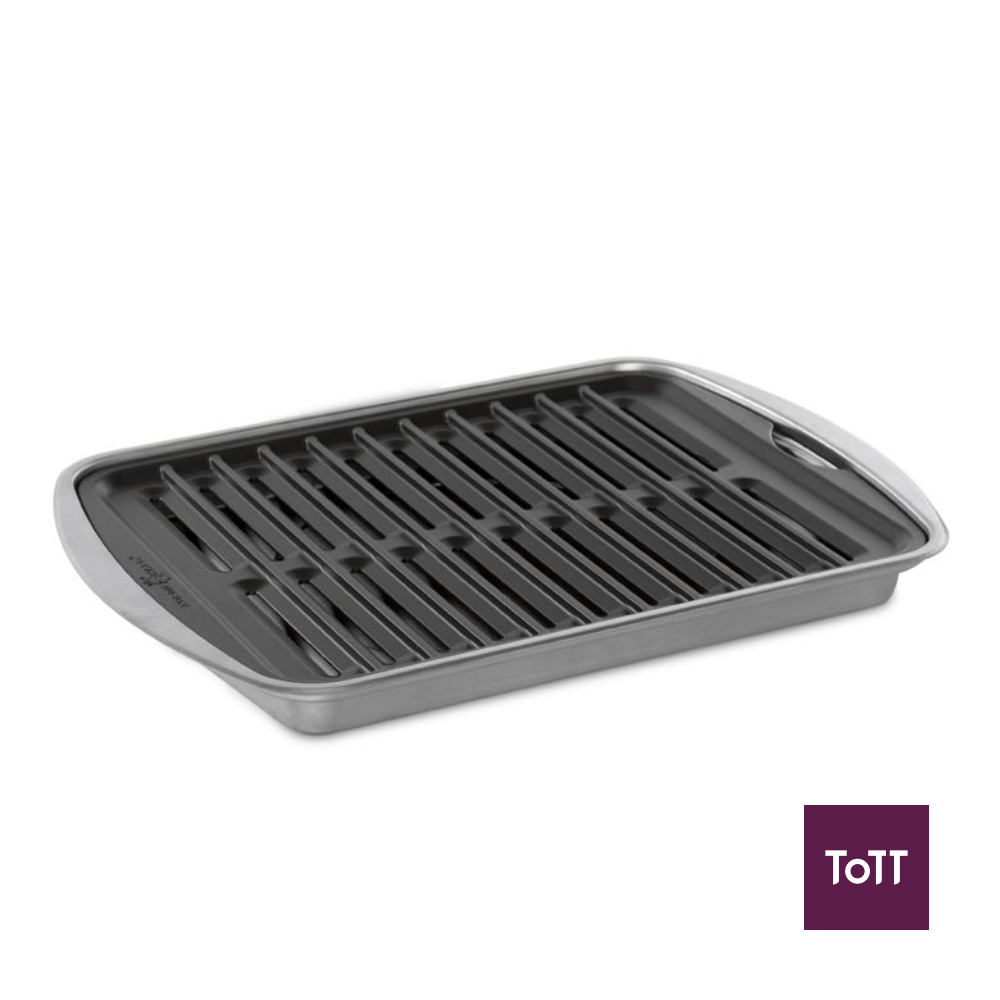 Create grill-like results inside your home with our Grill & Sear pan. Sized to fit inside of a toaster oven or countertop size oven, it is also compatible with conventional ovens. It is sized for 4-6 portions and features a cast aluminum grill grate atop a stainless steel base. When this grate is preheated for several minutes, it becomes very hot and will sear foods the same way a grill would do. The base tray catches juices and oil from food as it cooks or broils in your oven. You'll be able to visibly see browned grill marks on your food, whether it's a protein or a vegetable you're cooking.
To Use: Turn on oven to Broil and allow oven to preheat 2 minutes. Place empty Grill and Sear pan into oven and heat pan for 3-4 minutes. Using an oven mitt, remove pan from oven and place food directly onto heated Grill and Sear pan. You should hear your food sizzle. If it does not, preheat broiler for an additional 1-2 minutes. Place Grill and Sear pan with food back into the oven beneath broiler. Cook until desired level of browning is achieved on the top side of your food. The bottom side will already be cooked from the preheated hot grate below, so turning of food is optional. To reduce smoking and potential flare-ups, add ¼ cup of water to the bottom of the drip pan prior to cooking.
Care: Before initial use and after subsequent uses, hand wash with warm soapy water. Dishwasher use is not recommended, as it may shorten the life of the nonstick coating. Always use an oven mitt when handling your Grill and Sear pan; it will become hot during cooking. Never leave pan unattended while cooking. Never heat a pan empty for longer than the recommended preheat time; damage to nonstick may result. Always use adequate ventilation when broiling
Nordic Ware is a leading manufacturer of high quality and innovative kitchenware products. By designing products of superior value, producing them in the United States whenever possible, and marketing them worldwide, we enrich people's lives by adding utility, convenience and enjoyment to the preparation of food.