Nordic Ware Stovetop Sandwich And Grill Press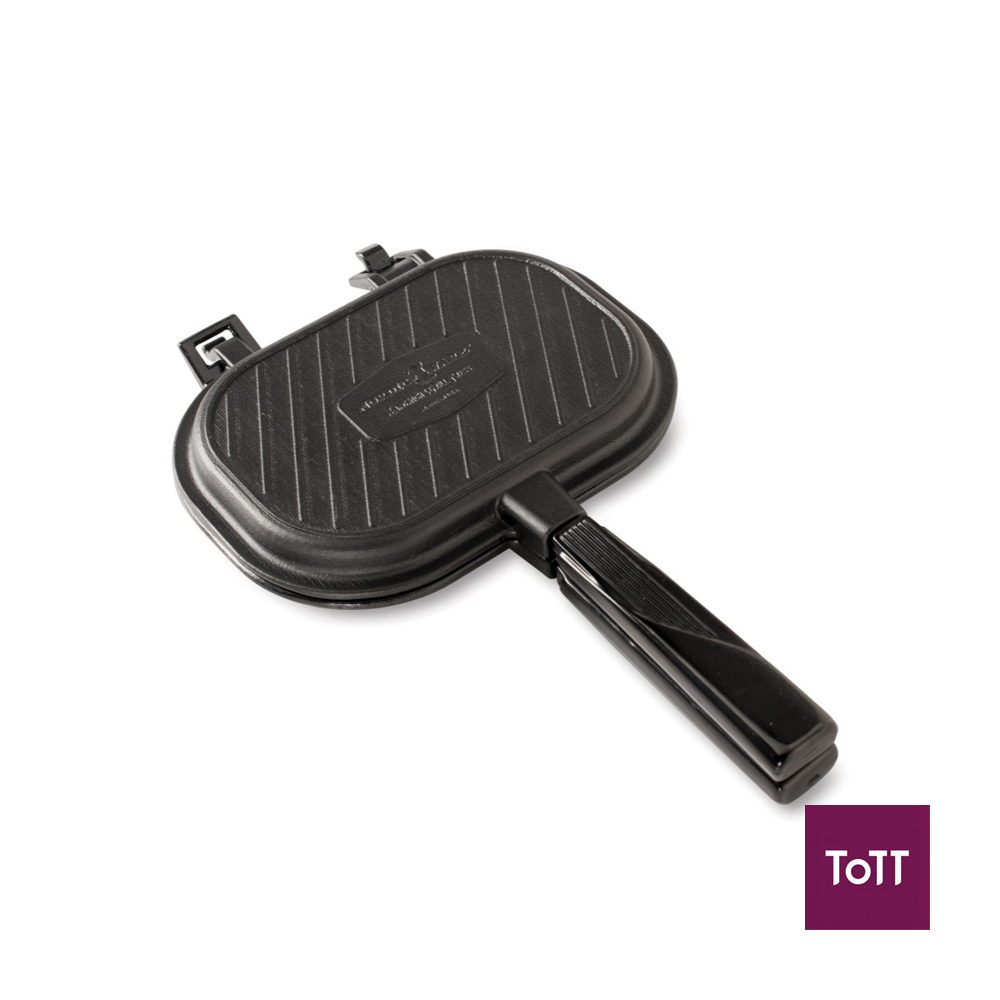 Inspired by a trip to Europe, where warm, melty Cheese Toasties are a regular item on café menus year 'round. Preheat both sides, then place sandwich inside and squeeze to cook from both the top and bottom. The result is hot, melted, crispy, deliciousness and a dramatically reduced cooking time. Ribs on the inside of this pan sear sandwiches with flavorful grill marks. So simple to clean and store compared to an electric sandwich maker. Also wonderful for quickly searing steaks, chops and chicken.
Use: For grilled cheese, panini, chicken, chops, steak and more! See our How-to Video above for more information.
Care: 1. Before initial use and after subsequent uses, hand wash with warm, soapy water. 2. Prior to adding food, preheat both sides of pan 1 minute each. 3. With food inside, squeeze handles together to ensure top side of pan is in contact with food. 4. Halfway through cook time, carefully flip pan over to cook opposite side. 5. While not necessary, cooking with butter or oil will improve performance and taste of food. 6. Dishwasher use is not recommended, as it may shorten the life of the nonstick coating and dull the exterior of your pan. 7. Use moderate heat to obtain the most effective heating properties. Excessive heat can be damaging to the pan and stovetop. 8. Never allow cookware to boil dry or leave an empty pan on a hot burner unattended. These will both cause damage to the pan's cooking properties. 9. Metal utensils, scouring pads and abrasive cleaners should not be used on nonstick surfaces. 10. Always use adequate ventilation when cooking. 11. When cooking moist and juicy meat or food, always pour off excess grease and liquid into a bowl (pouring from one of the back corners) before flipping the grill press over. Always use an oven mitt when handling.
Nordic Ware is a leading manufacturer of high quality and innovative kitchenware products. By designing products of superior value, producing them in the United States whenever possible, and marketing them worldwide, we enrich people's lives by adding utility, convenience and enjoyment to the preparation of food.