Chef'S Choice 270 Electric and Manual 3-Stage Diamond Knife Sharpener, 45W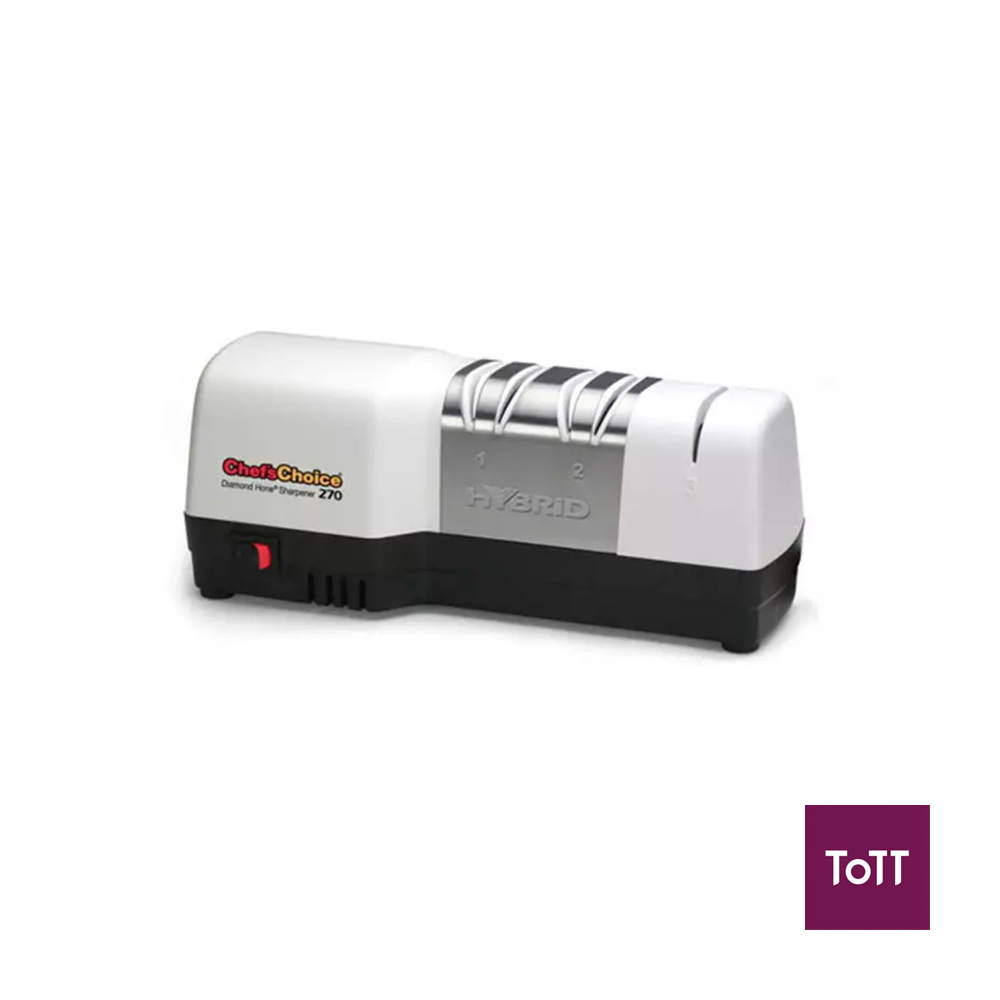 The new, efficient 3-stage chef's choice 270 diamond hone hybrid knife sharpener is our most advanced hybrid yet, combining our acclaimed crisscross sharpening technology and electric and manual sharpening stages that provide superior edge geometry and razor sharp edges on both straight edge and serrated knives including household and kitchen knives, sports knives and pocket knives. The Chef's Choice crisscross sharpening technology is praised by home cooks and professional chefs for its extremely sharp edge with lots of "bite." The diamond abrasive wheels sharpen simultaneously "into" and "out-of" the edge for a superior burr-free edge. Featuring elegant and durable brushed stainless steel knife guides, stages 1 and 2 are electric using 100-percent diamond abrasives for fast and easy edge shaping and sharpening. Stage 3 uses ultra-fine diamond abrasive wheels for a polished, razor-sharp, arch-shaped edge that is stronger and more durable. Stage 3 also sharpens serrated edges. One year limited warranty. Engineered and assembled in the U.S.A.
Since its founding in 1984, EdgeCraft Corporation, located in Avondale, PA, has manufactured its world renowned Chef's Choice brand of highly advanced small kitchen electrics including the world's largest selection of electric and manual knife sharpeners, electric food slicers, waffle makers and hot beverage products as well as manual sharpeners and the renowned Trizor Cutlery. Crafted with a passionate commitment to innovation and dependability, Chef's Choice products are consistently rated as consumers' best buys and are fast becoming family heirlooms to pass down to future generations.