Cole & Mason Exford Antique Brass Precision+ Salt & Pepper Mill Set 16cm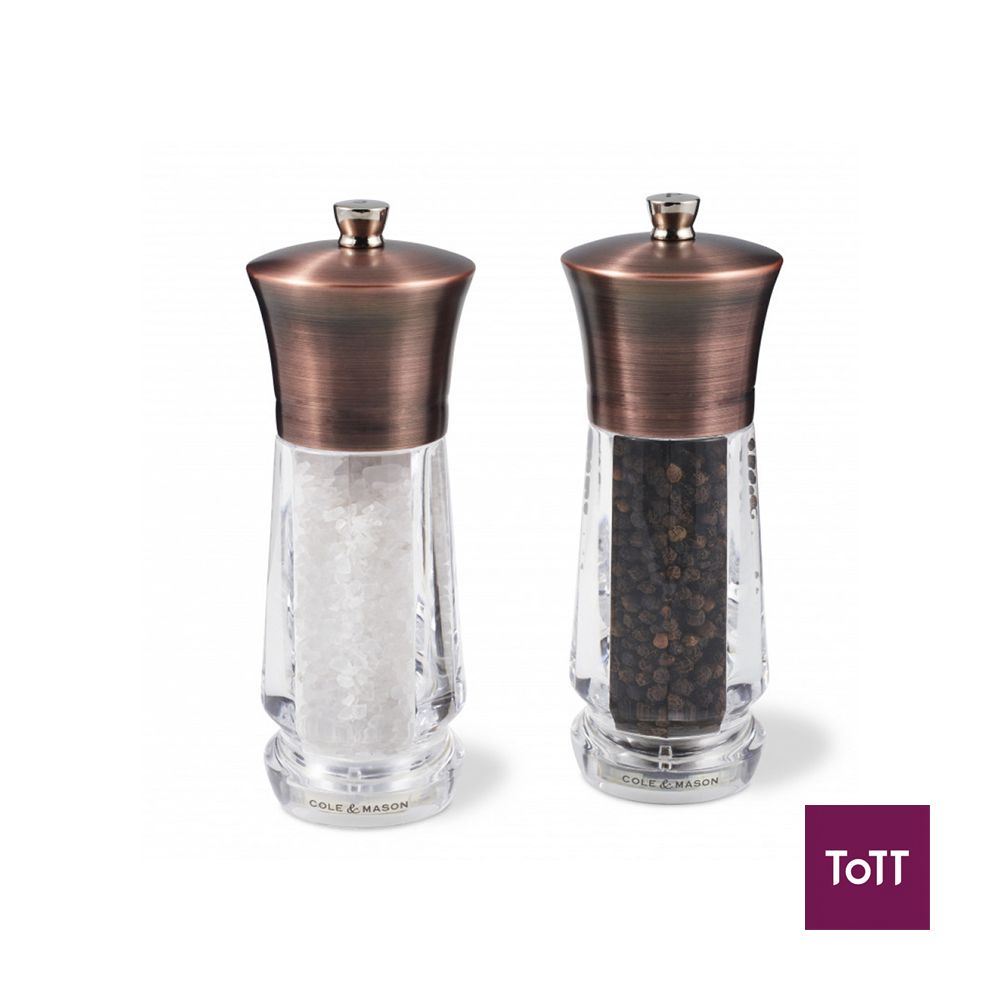 A simple yet stylish salt and pepper mill made from acrylic with an antique brass coloured top. The smooth clear acrylic body is offset by the multiply faceted interior offering a striking finish that refracts the contents for a unique and modern take on a traditional pepper mill. This mill set Instantly adds style to any dining table whilst remaining an invaluable every day kitchen tool. Featuring the Cole & Mason Precision+ carbon steel mechanism that strips peppercorns instead of crushing them and diamond-sharp ceramic for salt, ensuring maximum flavour release from every turn. The hard-wearing qualities of the mechanism ensure you will always receive a consistently outstanding performance. Use a coarse setting for steaks or tomato salad, a medium setting for pizzas and a fine setting for soups and sauces.The mills come partially filled with premium whole black peppercorns from Vietnam and coarse sea salt from Belgium so are ready to use from the moment you receive them. Easily refill your mill by simply unscrewing the knob on top and remove along with the nickel top. Fill up with your favourite whole peppercorns and coarse salt, replace the top and continue enjoying freshly ground seasoning. Adjust the grind by tightening or loosening the knob on top. If your mill becomes difficult to grind, particularly on a fine setting, trying clearing the mechanism. Turn the mill upside down, loosen the knob to the coarsest setting and twist the top. This will free any large peppercorns or salt crystals that may have become lodged. Re-tighten the knob to the desired setting. Do not put salt in your pepper mill as this will corrode the carbon steel mechanism.
Established in 1919, Cole & Mason's world-renowned salt and pepper mills remain wholly designed in England. With mill designs from traditional to modern, these innovative mills not only enhance your home and food with function and optimum flavor, but bring great style as well. Every kitchen and home deserves a mill that delivers the ultimate in seasoning time and time again.