Solis Scala Zero Static Grinder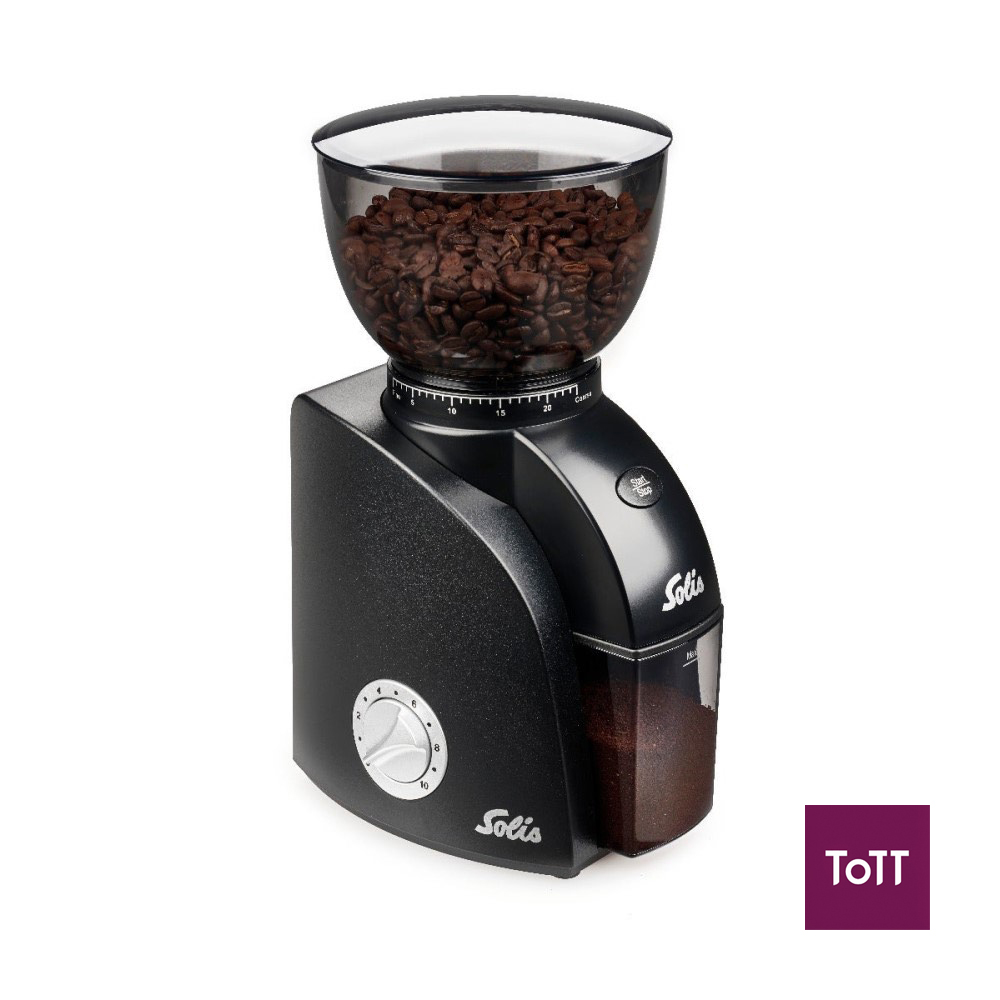 Make freshly ground coffee for all kinds of coffee preparations, from filter coffee to espresso. The SOLIS Scala Zero Static grinder features 24 different grind settings and conical grinding burrs made of hardened stainless steel that effortlessly grind whole coffee beans. Its advanced ZeroStatic technology offers many benefits: by eliminating static charge of ground coffee, the waste of ground coffee is reduced, enhancing dosing consistency/precision and leaving your kitchen counter tidy and clean. The low speed of the double reduction gear unit allows for particularly aroma-friendly grinding.
24 Grind Settings
– The SOLIS Scala Zero Static grinds your favourite coffee beans quickly and easily into the right blend.
Large Bean Container
– The large bean container offers space for up to 300 grams of coffee beans, which is enough for an average of 40 delicious cups of coffee.
ZeroStatic Technology
– The built-in ion generator eliminates static charge that is created during grinding, reducing ground coffee waste and enhancing dosing consistency/precision.
Best Bean Quality
– The bean container is hermetically sealed, preserving the quality and aroma of the coffee beans.
Hidden Storage
– A useful storage compartment in the base of the appliance hides unused cable, making your kitchen counter look tidy and neat.
Adjustable Grind Settings
– There are 24 different, easily adjustable grind settings from fine for espresso to coarse for filter coffee.
The amount of ground coffee is controlled by an electronic timer and collected in a collection container. As small stones can also be found under the beans for some types of coffee, the appliance is also equipped with a stone safety device protecting the grinder from damage.
The transparent, aroma-preserving bean container made of SAN plastic holds up to 300 grams of beans and is removable for easy cleaning. The BPA-free plastic housing is equipped with a practical compartment to store and hide the cable of the grinder. An electronic start/stop button and non-slip feet ensure comfortable and safe operation.
Stone Damage Protection
– A built-in stone safety device protects the appliance from damage caused by stones.
BPA-Free Plastic Parts
– All components made of plastic are free of BPA.
Overheating Protection
– Prevents permanent damage to the grinder's motor when the appliance is exposed to excessive use.
Start/Stop Button
– Full control over your grinding: With a simple push of the button, you stop and (re-)start the grinding process whenever you need to.
"